Clay County Schools Re-Applies for Learning Program Grant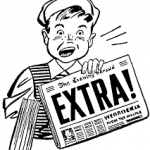 On April 29, 2022, Clay County Schools will submit a new application for the Nita M. Lowey 21st Century Community Learning Centers grant. This grant has funded the district's afterschool and summer learning programs for the past five years. A successful partnership with Save the Children has allowed the district to provide quality academic support for elementary students in the areas of reading, mathematics, and homework completion. Additionally, the grant has funded field trips and other enrichment opportunities for students.
The current grant, which ends September 30, 2022, also has provided homework help, ACT/SAT preparation, and time for student organizations, such as TSA, FBLA, HOSA, and FFA, to meet and prepare for competitions at the middle and high schools. Career exploration opportunities, such as the summer CTE Camp and STEM classes, have also been made possible for students through current funding.
The 21st CCLC grant provides the much-needed monies to run activity buses each evening for students attending afterschool programing, as well as during the summer, which permits students to participate in a variety of programs.
The new application, if awarded, will allow Clay County Schools to continue offering these opportunities for students, as well as expand offerings for elementary, middle, and high school students. Award announcements will be made by the West Virginia Department of Education in June 2022.