Who is Sarah the School Messenger?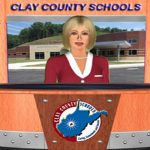 Sarah the School Messenger is the digital personality for our Telephone Notification System.  Sarah will call you whenever there is important news to be shared relating to school.  Sarah will call you when:
There is a delay in the school day; for example a two-hour delay
When there is a cancellation of school, that affects you.
When there is an early departure from school.
Whenever special events are occurring at your school such as picture day, parent-teacher conference, important testing dates, or some other event students and parents need to know
When there are important deadlines to be met, such as providing shot records,and applying for financial aid for college
If you get a "Sarah" call, there will be an option at the end of the call to allow you to update your contact information or opt out of "Sarah" calls.  Be cautious about opting out to quickly so you do not miss timely announcements that you may wish to hear.
You should contact your school principal and/or secretary to provide updated telephone information also.  Remember that not all school telephone calls originate from Sarah the School Messenger.  School principals and staff members need to have accurate contact information for every student at all times.
When school officials update your telephone number in the school data system, Sarah will automatically be updated within one school day.
Sarah the School Messenger will only call when the announcement is important and she will always be polite and brief.
If you are not receiving calls from Sarah or wish to change how Sarah contacts you, use the Self-Update Portal (or call 877-698-3261) to manage your contact information.  You can use this portal to:
Designate one or more primary contact numbers
Add or change contact information
Add an email address
"Opt-in" to receiving text messages on your cell phone